Certified Mediator and Trial Attorney in Palm Beach County
Mr. Mayans is a mediator, arbitrator, and commercial litigator, with the majority of his practice devoted to alternative dispute resolution.
Commercial Litigation
Since 1981, Mr. Mayans has practiced in the field of commercial litigation, including complex contract, real estate, and business tort disputes. He is committed to providing creative and price-conscious services are what distinguish Mr. Mayans and the legal services he provides.
Mediation and Arbitration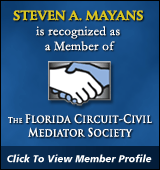 Having conducted over 1,000 mediations in state, federal, and American Arbitration Association disputes, Mr. Mayans engages in a substantive discussion of the issues in dispute (rather than a mere exchange of settlement offers) and brings a creative approach to resolution (not always limited to the payment of money).